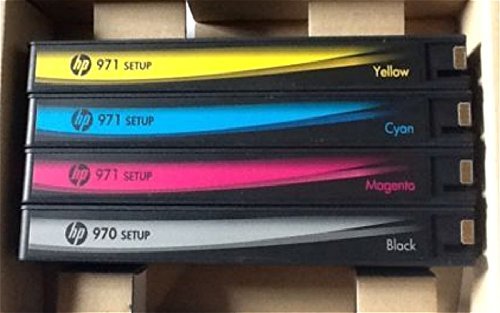 970-971-Setup
Product Features - Designed for NEW printers only to work as setup cartridges on NEW Printers ONLY.
●Item condition: Genuine HP 970/971 setup Black Cyan Magenta Yellow Officejet Ink Cartridge
●Yield : Standard yield
Black HP 970 setup cartridge (D8J18S) 2500pages
Cyan HP 971 setup cartridge (CN622S) 2500pages
Magenta HP 971 setup cartridge (CN623S) 2500pages
Yellow HP 971 setup cartridge (CN624S) 2500pages
●Color:4pk - Blackx 1 Cyanx 1 Magentax 1 Yellowx 1
●Want more pages, great reliability, and amazing value? You want original HP inks.
●Model number:Manufacturer's Part No:D8J18S/CN622S/CN623S/CN624
Compatible Model:
Officejet Pro X 400 series HP Officejet Pro X451dn Printer
Officejet Pro X 400 series HP Officejet Pro X451dw Printer
Officejet Pro X 400 series HP Officejet Pro X476dw Multifunction Printer
Officejet Pro X 400 series HP Officejet Pro X476dn Multifunction Printer
Officejet Pro X 500 series HP Officejet Pro X551dw Printer
Officejet Pro X 500 series HP Officejet Pro X576dw Multifunction Printer